Education | Dec 01, 2020
How Do Christmas Trees Grow?
Hint: It takes a lot of love to grow a Christmas tree! We talked to Ben Butler, a Christmas tree farmer from Butler's Orchard to get the scoop on these festive firs and frasers.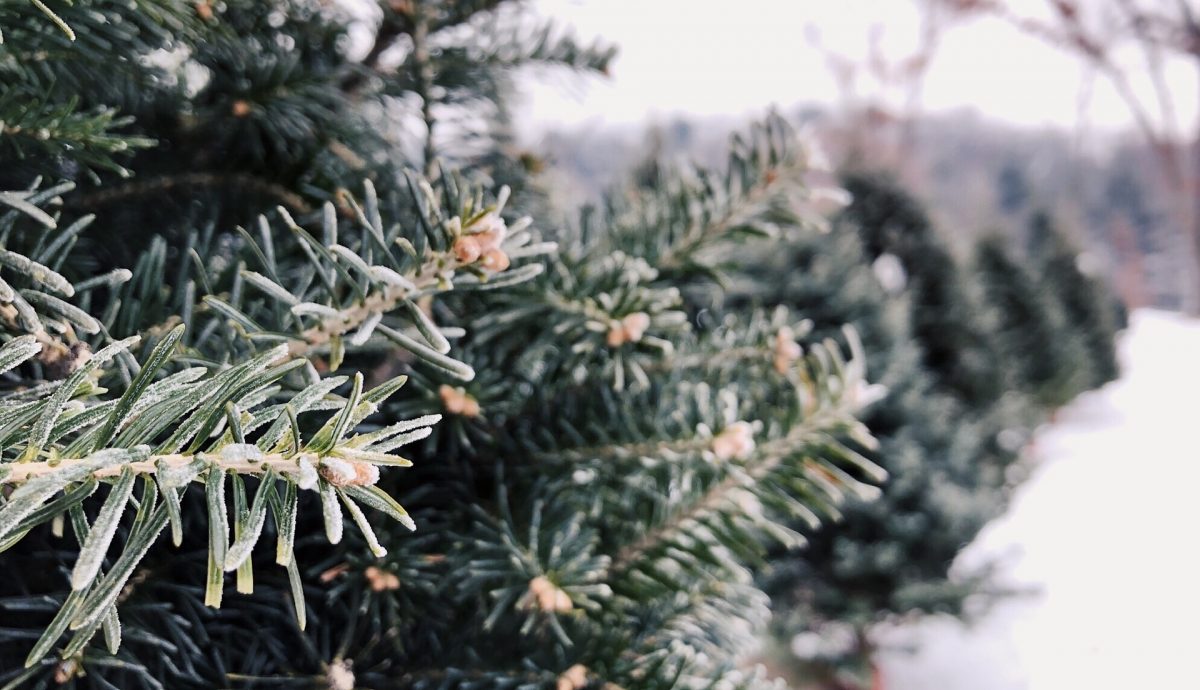 We did this interview back in 2016, but it is still relevant! We've added the new "How do Christmas Trees Grow?" video for more fun learning!
Ben Butler grew up living and working on his family farm, Butler's Orchard. He graduated the University of Maryland in 2010 with a degree in Horticulture and Crop Production. Now Ben works full time on his family farm as the Farm and Finance Manager where he is responsible for all crop production activities. Ben truly believes farming and being part of Butler's Orchard is his purpose in life and is committed to the business to the highest degree!
We interviewed him about his farm and to find out: How do Christmas trees grow?
Tell us about your farm and your family (What do you do on the farm when it is not Christmas season?)
Butler's Orchard is a 300 acre pick-your own family farm with a variety of agritainment activities offered throughout the year. We grow small fruit, tree fruit, Christmas trees and vegetables and offer school tours, birthday parties, private events, a large fall festival and much more. We also have a farm market where we sell local produce and other local items like honey, jams, and pies just to name a few.
Photo courtesy of Butler's Orchard. All rights reserved.
The farm began in 1950 when my grandparents purchased the original land with peaches being grown. From there, they pioneered the "pick-your-own" concept and began growing strawberries along with other crops for neighbors and friends to come pick. The second generation and current owners have taken the farm to another level offering more activities and family fun than ever before. The third generation includes my brother, sister and myself and we hold the current positions of General Manager, Purchasing Manager, and Farm & Finance Manager, respectively. There are currently seven "Butlers" who work in the company on a daily basis. We're proud to say we are a family business who work well together and plan to keep it that way as a transition plan is in effect to move the third generation into ownership. We work hard throughout the growing season and thoroughly enjoy our slower winter months which give us time to travel, relax, and plan for the season ahead.
What does it take to grow a Christmas tree?
It takes a lot! We try to allocate 40-45 acres to our Christmas Tree Production (which is tough since we are short on land). Growing a tree has many similarities to growing other crops. Before planting, it is our goal to eliminate all tough to manage perennial weeds, adjust the pH to our target range (depending on the tree species), and establish ideal soil fertility for seedlings. This all needs to be done a year (or years) in advance. Grass is planted in the fall, and the trees get planted in early spring. From there, it takes about 6-8 years for the trees to grow to a marketable height. During this time we monitor for weeds, fertility issues, and pests and as an IPM (Integrated pest management) farm, we take control measures only when needed.
I heard a rumor that you have to shape a Christmas tree? Do you mean that the spirit of Christmas doesn't just magically make it grow in a perfect triangle shape? (Christmas trees take a lot of love!)
Trees do take a lot of love! Once the trees reach about 3'-4' in height, we begin a process called "shearing." After the trees grow in the spring and their new growth begins to harden off (usually July/August) our crews go through the trees one at a time and help guide the shape of the tree using a very long and sharp knife. The years of shearing end up giving the trees a beautiful iconic Christmas look when they have reached full height. Some varieties require more or less shearing because of specific growth habits.
What are the most popular varieties Christmas trees in your area? What are the major differences?
The most popular varieties of Christmas tree in our area are Douglas Fir, Canaan Fir, and Fraser Fir. Douglas Fir have a traditional cone-shaped look, with good needle retention and a moderate fragrance. Canaan firs and Frasers are very similar. Both have a more open and natural look. Their needle retention is excellent and Frasers have a slightly stronger fragrance than Canaan.
Photo courtesy of Butler's Orchard. All rights reserved.
Why should people buy a real tree?
There are endless reasons folks should buy a real tree. My biggest reason is because of the experience. Whether you're with your family, or a group of friends, an outing to choose and cut your own tree is unlike any other. Additionally, they smell amazing! And burning a Christmas tree smell-a-like candle just isn't the same. Purchasing a locally grown, real Christmas tree supports local farmers such as myself, along with our employees who are generally young people learning the fundamentals of work ethic.
I understand the draw to a fake tree; you can use it for several years, the needles don't leave a mess, etc. However, most artificial trees are made from nonrenewable plastics and most have to make the trip all the way from China. Meanwhile, our trees are providing oxygen, storing carbon, creating habitat for wildlife, and when it is cut down, we'll plant another in its place. Also, they're recyclable! Check your local services for tree pick-up or where to take your tree to be recycled into mulch or compost.
Do you have any tips for cutting down a tree? What should I look for when I pick out my Christmas tree?
Be sure the tree isn't too big for your house. When out in the field, trees can seem smaller than they actually are. Ask for us to do a quick measure before cutting it down if you're not sure. Take a look inside the tree at the trunk itself. Be sure that there isn't a big curve in the trunk, or even worse, a double trunk. These trees generally won't stand up straight or even fit in the stand. Lastly, make sure it's outer needles aren't yellowing or falling off already. It's been a very dry fall, putting some trees at risk to dropping their needles early. Note that trees grow new needles every year, so expect some needles on the interior of the tree to already have dropped.
Photo courtesy of Butler's Orchard. All rights reserved.
Ok – I might get you in trouble here, but if you had to pick – multi-colored lights or white lights?
Both win! I think white for the traditionalist, and colored for the more...well colorful type! Can't go wrong.
Anything else you want to share? Does you have a family tradition around decorating Christmas trees?
Our favorite tradition is to have mini trees (2'-3') in the kids' rooms! Growing up, I loved falling asleep to the smell of a fresh Christmas Tree and the soft glow of the colored lights. I look forward to doing the same for my kids!
A BIG thank you to Ben Butler of Butler's Orchard in Germantown, Maryland for helping us with this article. I hope this inspires everyone to get out there and support their local farmers by getting a fresh Christmas tree!
Read more about tree farming: The Tree Farmer
Follow Butler's Orchard on Facebook, Twitter and Instagram.
Visit Butler's Orchard.
ALL images, including cover image, used with permission from Butler's Orchard. All rights reserved.