| Dec 02, 2022
American Farm Bureau Foundation Awards More than $20,000 in Grants and Scholarships
The American Farm Bureau Foundation for Agriculture has awarded $10,000 in grants to recognize the exceptional efforts of 10 county Farm Bureaus and their agricultural literacy programs. Additionally, the Foundation has awarded $15,000 in scholarships to 10 educators who exemplify excellence in engaging students to learn where their food comes from.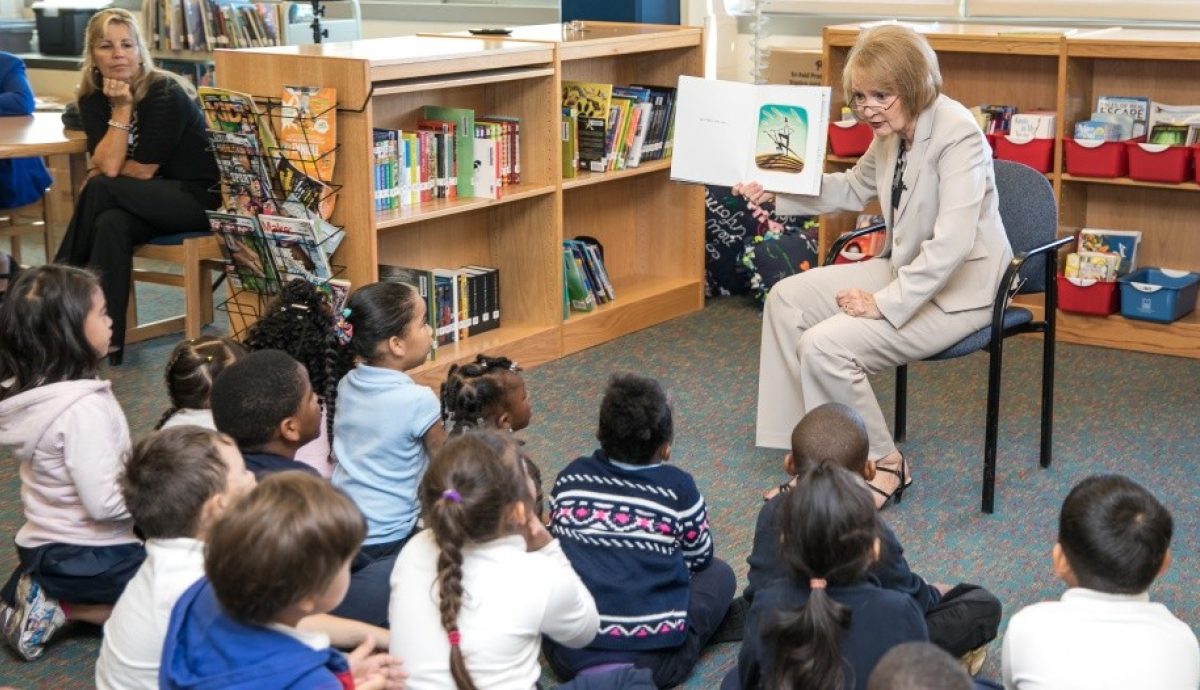 The American Farm Bureau Foundation for Agriculture has awarded $10,000 in grants to recognize the exceptional efforts of 10 county Farm Bureaus and their agricultural literacy programs. Additionally, the Foundation has awarded $15,000 in scholarships to 10 educators who exemplify excellence in engaging students to learn where their food comes from.
The grants and scholarships are funded through the White-Reinhardt Fund for Education, which acknowledges communities and educators who are engaging with students on the fundamental role of agriculture in the everyday lives of all Americans.
"Teaching the next generation of learners where their food comes from is a tremendous responsibility, and these programs and educators do an outstanding job with such an important task," said Daniel Meloy, executive director of the Foundation. "I'm honored that the Foundation can acknowledge their impressive commitment to ensuring children across the country know the impact agriculture has on each of us."
Grants are awarded twice a year, in the spring and fall. State and county Farm Bureaus may apply for $1,000 grants in support of education programs for grades K-12 in order to create new ag literacy programs or expand existing programs. Organizations and schools can work with their local Farm Bureau to apply for the grants, which are available on a competitive basis.
Additionally, the Foundation has awarded scholarships valued at $1,500 each to 10 educators to help offset the cost of attending the National Ag in the Classroom Conference. The Foundation will also cover the registration cost of attending the conference for the educators selected.
The White-Reinhardt Fund is a project of the Foundation that sponsors scholarships and grants in cooperation with the American Farm Bureau Women's Leadership Committee. The fund is named in honor of Berta White and Linda Reinhardt, two former committee chairwomen.
Spring 2023 White-Reinhardt Grant Recipients
Banks County Farm Bureau, Georgia
Banks County Elementary is one of 25 schools in the state of Georgia participating in a three-year pilot program that allows students to participate in a garden-growing learning experience. One challenge that the school faces is timing and students not being able to see the outcome of their planting before school lets out for the summer. To help expedite the plant growing process, the grant will fund grow lights for their classrooms and Ag Lab, small and large seed starter containers for transplanting, and provide them the opportunity to plant seeds and monitor growth in the classrooms.
Bond County Farm Bureau, Illinois
Bond County Farm Bureau will use the grant funds to engage students in a three-week project teaching them the life cycle of a chicken. In this project, students will observe eggs through an incubation process as well as read books and do activities to help them gain information about the different parts of an egg and their purpose.
Barrow County Farm Bureau, Georgia
In alignment with The Pillars of Ag Literacy – A Planning Tool, A Framework for Learning, A Starting Point, and A Guide to Measure Success – the students at Kennedy Elementary School of Barrow County, Georgia, will learn how farmers raise and care for chickens. Using the grant funds, Kennedy Elementary's goal is to engage all eight of their kindergarten classes in incubating and raising chicks, learning the business of selling eggs, and being introduced to different jobs raising poultry and its importance in the community.
Carroll County Farm Bureau, Virginia
In Carroll County, Virginia, the White-Reinhardt mini-grant will be used to provide 60 home-schooled students, 30 children alongside their parents and families, and 70 additional classrooms with access to the selected state book and the Carroll County A-B-C book. This program will strengthen student and family understanding of the relationship between agriculture and food, fiber, and energy through reading and an interactive farm display. This program will be presented by the Carroll County Farm Bureau Ladies' Committee and their FFA chapter.
Jackson County Farm Bureau, Georgia
West Jackson Elementary School has developed an innovative aquaponics system to show environmental stewardship and sustainability in their community. While their system is meant to use fish-produced waste bacteria and convert it into nutrients for plants, they've come across a challenge with their filtration system, which they seek to overcome using their mini-grant. West Jackson plans to replace their filter system, purchase new floating foam boards, replace their previously used goldfish with Blue Nile tilapia, and once the system is stable, they will add plants to grow and share with their community.
Kerr County Farm Bureau, Texas
Kerr County, Texas, students will use their grant funds to create a "Learning Garden" and "Learning Coop," and to build a fence to keep youth safe while they enjoy the outdoors. Through the Kerr 4-H Live, Learn, and Grow Outdoor Educational Program, students will be able to learn how to prepare soil, plant seeds, harvest, and overall learn where food comes from, how to market and sell it to earn a living, and how to provide for their families.
Muskegon County Farm Bureau, Michigan
Muskegon County is holding a Career Ag-xploration event in 2023 and seeks to use its grant funds to connect students and their families with employers around Muskegon County to learn more about agribusiness. They will purchase 15 Michigan Commodity Facts, further their partnership with the Agribusiness Talent Council, and give away books such as "How Did That Get in My Lunchbox?," "Full of Beans: Henry Ford Grows a Car," and "The Beeman" to the top four schools that participate in the Career Ag-xploration event.
Marion County Farm Bureau, South Carolina
The Pee Dee Academy Farm of Marion County, South Carolina, is in the second year of its agriculture program, and it has expanded its reach from 11th and 12th graders to all high school students and sixth graders who may be interested in agriculture and raising farm animals. Pee Dee Academy has six raised garden beds sponsored by Clemson Extension and has two potbelly pigs, a donkey, four boar goats and five breeds of chickens; they will use their grant funds to buy signage for the plants and animals. The signage will explain the different plants in their respective seasons and will provide information on animal breeds and how to care for them.
Buffalo County Farm Bureau, Wisconsin
Buffalo County Farm Bureau of Wisconsin is working with the Independence School District to develop the school grounds' neighbor-adjacent farmland into wetland and dryland ecosystem outdoor education areas. They wish to use their grant to purchase quality signage, placed in high-traffic areas to provide student and community awareness and knowledge of the symbiotic relationship between local agriculture and local ecosystems.
Vermilion Parish Farm Bureau, Louisiana
Vermilion Parish of Louisiana will use its grant funds to purchase a hydroponics kit for each elementary school in the parish, totaling 11 schools and they also hope to provide a small cart for each growing system to be brought from classroom to classroom. The goal of their project is to not only expose students to other methods of agriculture and how those methods and technology can positively impact production but also to create a strong relationship between all of the elementary schools' teachers and the county's Ag in the Classroom program.
Contact:
Mike Tomko
Director, Communications
(202) 406-3642
miket@fb.org
Bailey Corwine
Media Relations Specialist
(202) 406-3643
baileyc@fb.org